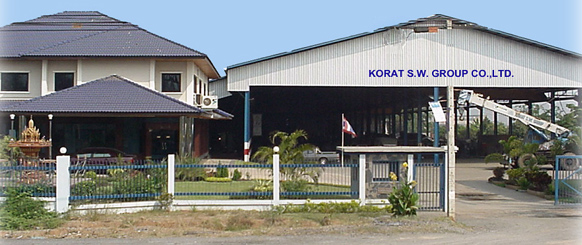 Korat S.W. Group Co.,Ltd.
บริษัท โคราชเอสดับบลิวกรุ๊พ จำกัด | KORAT S.W. GROUP CO., LTD.
บริษัท โคราชเอสดับบลิวกรุ๊พ 2007 จำกัด | KORAT S.W. GROUP 2007 CO., LTD.
549 MOO 1 THAMBOL HUA THALAY, AMPHUR MUANGNAKHONRATCHASIMA,
NAKHONRATCHASIMA 30000 THAILAND

Tel: +66 (0) 44 245-071, (0) 44 258-073 Fax: +66 (0)44 257-556
E-mail: kswgroup2002@yahoo.com
     Our company situated in the province of Nakonratchasima (Korat) which is about 250 km. Northeast of Bangkok. This area is the center of most of the tapioca starch processing factory.
      With many years of working experience with the tapioca starch processing factory, in 1980, the company had been established under the name "Suphot Supply Ltd Part" for the supply of spare parts for the tapioca starch processing plant and so as repairing the machines and equipments.
     1989 "Korat S.W. Group Co., Ltd." had been established as the manufacturer of machines and equipments for the tapioca starch processing line.
     2007 "Korat S.W. Group 2007 Co., Ltd." had been established.
     At present, the total number of our employee is 245
     With our long experience in the tapioca starch processing system, we had manufactured the machines/equipments and kept developing them to have the high operating efficiency and to produce the best quality of tapioca starch with the very high recovery yield, low operating cost and easy maintenance. Apart from being the manufacturer, we also designed the complete processing line for producing the tapioca starch with the best and the latest technology. This is proven that we are very well known to all the starch processing factory in Thailand and in foreign country such as Indonesia, Vietnam, China, Philippines, India, Nigeria, etc.
     Our aim is to supply the most efficiency machineries and equipments to the client together with our utmost care of after sale service so that they will get the best benefit out of it.
     Further to the above, we are also handling the engineering design for the system of down stream products such as Glucose Syrup, High Fructose Syrup, Sorbitol and Modified Starch for Food Industrial and Industrial use.
     Starting from the initial project planning stage until the start-up and operate the equipments, Korat S.W. Group (KSW) is the best partner of your choice.